Star Micronics
37964142
Economy Cash Drawer
The POSMicro Advantage
Free Shipping*
Free Tech Support*
Best Customer Service
Best Prices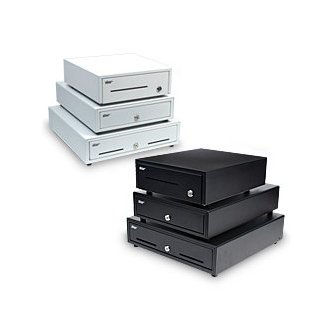 When you buy this product you receive:
Cash Drawer, Black, 12Wx14D, Printer Driven, 5Bill- 4Coin, Media Slot, DK Ready, CD1 Cable Included
$160.00
Quantity
Bulk Pricing Available
About This Product
For a complete product description, including technical specifications, warranty information, and additional models please visit the
main SMD2 page
.
This is not the recommended version of this product.
POSMicro Recommends
Product Technical Specifications
Listed specifications may not apply to every part number including the one listed above. Contact us and we will happily verify whether this part number is compatible with your current hardware and software.
Physical
Dimensions (WxDxH) & Weight:

SMD2-1214: 11.8" x 13.8" x 4.5", 13.2 lbs
SMD2-1317: 13.0" x 16.9" x 4.1", 15.4 lbs
SMD2-1617: 15.9" x 16.7" x 4.4", 17.6 lbs
Colors: Black, White
Till: Canadian or American layouts:
American: SMD2-1214 - 5 bill, 4 coin; SMD2-1317 - 4 bill, 4 coin; SMD2-1617 - 5 bill, 5 coin
Canadian: SMD2-1214 - 5 bill, 5 coin; SMD2-1317 - 3 bill, 5 coin; SMD2-1617 - 4 bill, 5 coin
Media Slots: SMD2-1214: 1 slot, SMD2-1617: 2 slots (no media slots on SMD2-1317)

Operation
Interface: Printer-Driven
Solenoid:24V

Warranty
3 Years Standard

*DK-AirCash is only compatible with apps integrated with StarIO Software Development Kit. Please call for more information.