Zebra
CRD-MC18-1SLOT-01
The POSMicro Advantage
Free Shipping*
Free Tech Support*
Best Customer Service
Best Prices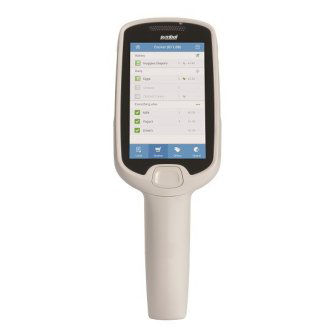 When you buy this product you receive:
MC18, Single Slot Locking Cradle. Display Facing Out. Requires Power Supply PWR-BGA12V108W0WW, DC line cord and Country Specific AC line cord sold separately.
$251.62
Quantity
Bulk Pricing Available
About This Product
For a complete product description, including technical specifications, warranty information, and additional models please visit the
main MC18 page
.
Product Technical Specifications
Listed specifications may not apply to every part number including the one listed above. Contact us and we will happily verify whether this part number is compatible with your current hardware and software.
Physical Characteristics
Dimensions (H x W x D):
Weight:
Keyboard: 1 dedicated scan button
Display: 4" WVGA Tianma display, LED backlight, capacitive touch, Corning Gorilla Glass 3
Interface Type: USB 2.0 for service and maintenance, 802.11a/b/g/n/d/h/i/k/r, Bluetooth 4.0 Class 1.5
Power: 2725 mAh Li-Ion rechargeable battery
Performance Characteristics
Processor: Dual core 1GHz TI OMAP4430
OS: Android KitKat, or Windows Embedded Compact 7
Memory: 1GB Ram/4GB Flash
Display Resolution: 480 x 800 Portrait
Decode Capability: Standard 1D and 2D symbologies; 30 FPS imaging rate
Environmental Characteristics
Operating Temperature: 32° to 104° F
Storage Temperature: 4° to 140° F
Operating Humidity: 10% to 95% non-condensing
Drop Spec: Withstands multiple 4-foot drops
Tumble Spec: 1,000 1.64-foot tumbles at room temp
Warranty:
1 Year