Zebra
CS6080-SR40000TSVW
Mobile Barcode Scanner
The POSMicro Advantage
Free Shipping*
Free Tech Support*
Best Customer Service
Best Prices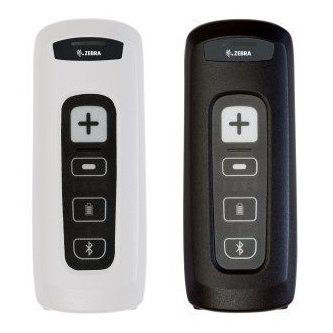 When you buy this product you receive:
CS6080-SR Black Cordless Standard Cradle (with Lanyard) KIT: CS6080-SR40004VZWW Scanner, CR6080-SC100F4WW Cradle, LNYD-000060W-04 Lanyard, CBL-CS6-S07-04 USB-C Cable

This part number's description is direct from the manufacturer.
$755.91
Quantity
Bulk Pricing Available
About This Product
For a complete product description, including technical specifications, warranty information, and additional models please visit the
main CS4070 page
.
This is not the recommended version of this product.
POSMicro Recommends
Product Technical Specifications
Listed specifications may not apply to every part number including the one listed above. Contact us and we will happily verify whether this part number is compatible with your current hardware and software.
Physical Characteristics
Dimensions (W x D x H): 1.79" x 4.39" x 1.02"
Weight: 3.28 oz
Scan Method: 2D Imager
Interface Type: USB, Bluetooth
Decode Capability: All standard 1D and 2D Symbologies
Decode Range:

Density/Symbology
Range
4.0 Mil Code 39
2.9" to 8.4"
5.0 Mil Code 128
2.4" to 7.8"
5 Mil Code 39
1.6" to 13.1"
13 Mil (100% UPC_A)
1.4" to 25.6"
20 Mil Code 39
1.6" to 29.6"
5 Mil PDF417
2.7" to 8"
10 mil Data Matrix
2.5" to 9.7"

Storage Space: 512 MB Memory; over 1,000,000 barcodes plus time
Radio Range: 300 feet when configured for Bluetooth Class 1, 30 feet when configured for Bluetooth Class 2
Environmental Characteristics
Drop Spec: Withstands 5-foot drops to concrete
Operating Temperature: 32° to 104° F
Storage Temperature: -40° to 158° F
Seal Spec: IP42, resistant to dirt and mild water splashes
Power
Battery Type: Lithium-Ion rechargeable, 950 mAH
Battery Life: Up to 24 hours
Charging Method: Charges via USB port or optional cradle
Charging Time: 3 hours 40 minutes
Warranty
3 Year