Zebra
WT60A0-KX2NEWR
Rugged Mobile Computer
The POSMicro Advantage
Free Shipping*
Free Tech Support*
Best Customer Service
Best Prices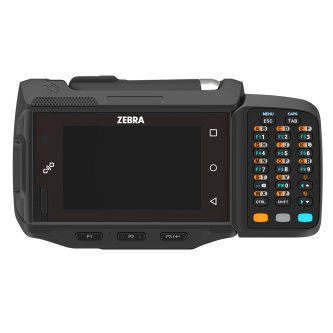 When you buy this product you receive:
WT6000 with Physical Keypad, Android N, 2GB RAM / 8GB Flash, Extended Battery, Worldwide

This part number's description is direct from the manufacturer.
Please call for pricing and information
About This Product
For a complete product description, including technical specifications, warranty information, and additional models please visit the
main WT6000 page
.
This is not the recommended version of this product.
POSMicro Recommends
Product Technical Specifications
Listed specifications may not apply to every part number including the one listed above. Contact us and we will happily verify whether this part number is compatible with your current hardware and software.
Physical Characteristics
Dimensions (L x W x D): 4.7" x 3.5" x 1.3"
Weight: With Battery- 8.7 oz
Keypad Options: On-Screen, three programmable function keys
Scan Method: By use of external scanner accessories (RS4000, RS6000, RS507)
Display: 3.2" WVGA LCD
Interface Type: USB 2.0, 802.11a/b/g/n/ac, Bluetooth v4.1
Power: PowerPrecision 3350 mAh Li-Ion
Performance Characteristics
Processor: Quad core 1GHz
OS: Android 5.1 Lollipop
Memory: 1GB RAM, 4GB Flash
Display Resolution: 800 x 480
Environmental Characteristics
Operating Temperature: -22° to 122° F
Storage Temperature: -40° to 158° F
Operating Humidity: 5% to 95% non-condensing
Drop Spec: Withstands multiple 4-foot drops
Seal Spec: IP65
Warranty:
1 Year