Zebra
ET55TT-L15E-00A6
Android Tablet
The POSMicro Advantage
Free Shipping*
Free Tech Support*
Best Customer Service
Best Prices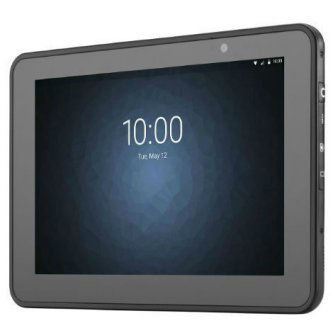 When you buy this product you receive:
10.1"WAN ANDR L NONGMS Z37452G 32G EM/AP

This part number's description is direct from the manufacturer.
Please call for pricing and information
About This Product
For a complete product description, including technical specifications, warranty information, and additional models please visit the
main ET50/55 page
.
This is not the recommended version of this product.
POSMicro Recommends
Product Technical Specifications
Listed specifications may not apply to every part number including the one listed above. Contact us and we will happily verify whether this part number is compatible with your current hardware and software.
Physical Characteristics
Dimensions (W x H x D):

8.3" Model: 9" x 5.9" x 0.5"
10.1" Model: 10.6" x 7.1" x 0.5"

Weight:

8.3": 1.2 lbs
10.1": 1.55 lbs

Keypad Options: Virtual, Bluetooth, USB
Scan Method: SE4750/SE4710 with expansion back accessory, or Rear-facing 8 megapixel auto-focus camera
Display: 8.3" or 10.1": Corning Gorilla Glass, Capacitive 10 Point Multi-Touch
Interface Type: USB 3.0 and 2.0, 802.11a/b/g/n, Bluetooth v4.0
Power:

8.3": 5900mAh Li-Ion battery; user-replaceable
10.1": 8700mAh Li-Ion battery; user-replaceable

Performance Characteristics
Processor:

Windows: Intel quad core 1.59GHz (Turbo= 2.39GHz), supports 64bit OS
Android: Intel quad core 1.33GHz (Turbo= 1.86GHz)

OS: Windows 10 -or- Android 6 Marshmallow
Memory:

Windows: 4GB LPDDR3 RAM, 64GB eMMC Flash HHD; micro SDXC card slot supports up to 2TB expanded memory
Android: 2GB LPDDR3 RAM, 32GB eMMC Flash HHD; micro SDXC card slot supports up to 2TB expanded memory

Display Resolution: 1920x1200
Decode Capability: Standard 1D and 2D symbologies with SE4750 or SE4710 expansion accessory.
Camera:

Front: 2MP 1080p Full HD optimized for video collaboration and low lighting conditions
Back: 8MP auto-focus camera with user controllable LED flash, illumination and aiming- photos, video, signatures, and documents.

Environmental Characteristics
Operating Temperature: 32° to 122° F
Storage Temperature: -4° to 140° F
Operating Humidity: 10% to 90% RH non-condensing
Drop Spec:

Standard: 3.28ft/1m drop to concrete
With optional rugged frame: 5.9ft/1.8m drop to concrete

Seal Spec: IP65
Warranty:1 Year Zebra Hardware